Escott Grave
A lonely grave in a delightful bush setting.

| | |
| --- | --- |
| Access: by car | Period: 1850's |
| Time: Allow 20 minutes | Stories: Women on the diggings |
The story of women on the diggings is largely untold. Only rarely did women work as diggers in their own right. Often, though, they worked side by side with a husband, brother or father.

The first woman made her appearance at Mount Alexander in November 1851, and a digger who was there later recalled how `all the men left off work to gaze on her'. Mrs Andrew Campbell couldn't help noticing the way she was always being `gazed on'-

'... sometimes as a strange animal, and at others, notwithstanding my claim to toughness, as a brittle bit of porcelain to be labelled "glass, with care"...''

Towards the end of 1852, women were an accepted part of the diggings scene. Writer-turned digger, William Howitt, was surprised at the number of `diggeresses' on the goldfields when he arrived­:
'You see a good many women ... and some of them right handsome young girls. They all seem very cheerful and even merry; and the women seem to make themselves very much at home in this wild, nomadic life.''

The grave of Elizabeth Escott and her daughter Fanny lies in bushland on the east side of the road to Fryerstown.
When Elizabeth's husband died, she left England with her eleven children to make a new life in Australia. She was one of many who were beaten by the hardships of life on the diggings. Fanny was sixteen when she died of consumption at Blacksmith's Gully in 1856, and Elizabeth died six months later. Another daughter, Mary, had died in 1855.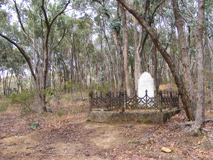 Her descendants have carefully maintained the lonely grave in the bush.
View Larger Map