Castlemaine Market Building
The Information Centre in this restored 1860's market building acts as the hub for the Diggings trail. You can start exploring from here.

| | |
| --- | --- |
| Access: By car, bus or train | Period: 1860's to the present |
| Time: Allow 30 minutes | Stories: people: a town booms |
The Market Building is in Mostyn Street, in central Castlemaine. Car parking and disabled access
is at the rear (Forest Street entrance). It is a ten minute walk from the Castlemaine Railway Station.
Ceres, the Roman goddess of the harvest, stands above the entrance to this building: a symbol
of fruitfulness and abundance.
The Information Centre here has audio tours of the town and of the Diggings Sites. You can either download them to your media player or borrow one from the centre. Alternatively you can stream them to your mobile device whilst exploring the area.
http://www.visitvictoria.com/Regions/Goldfields/Activities-and-attractions/Tours/Audio-tours.aspx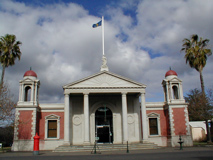 The Castlemaine Market Building opened to great fanfare in 1862. At the time, it formed the axis of a market complex with a wing extending from each side. In the 1860's Castlemaine had the highest Chinese population of any goldfield in Victoria and many of them had become market gardeners.

The building quickly became very much the centre of activity in the town, and not just for commercial purposes.
Today this beautiful building acts as a Visitor Information Centre, and houses special exhibi- tions and other events. There is also a state of the art visual presentation of the the goldfields and the attractions of this region

`It seems incredible that I was in a new country; that within half of my own lifeall this had been a wilderness... I thought of... Midas reversed – not wholesome things turned to gold, but gold trans- muted into earth's choicest treasures.' - English writer and historian, J.A Froude, 1885, on visiting the central Victorian goldfields
View Larger Map