Monster Meeting Site
By the end of November 1851, barely two months into the Mount Alexander rush, the population of the Forest Creek diggings was around 15,000. By the middle of December it was approaching 25,000.
| | |
| --- | --- |
| Access: By Car to within 50 metres of site | Period: December 1851 |
| Time: Allow 10- 15 minutes | Stories: People, Licence Fees, Solidarity |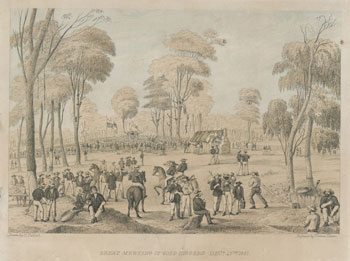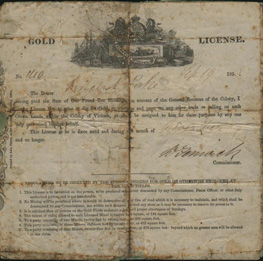 Squatters' farmhands, servants from Melbourne households, labourers, shopkeepers, crews from ships berthed at the docks and most of the police force had headed off to the diggings. In South Australia there was scarcely an adult male remaining.

The colonial government in Melbourne panicked, and announced a doubling of the licence fee to £3 per month. They claimed it was to raise funds to maintain `some degree of public order', but more obviously it was to keep the colony's population of cheap labour on the job.

The diggers were incensed, and a series of local protests soon led to a great meeting of diggers at Forest Creek on the 15th December 1851- the Monster Meeting.

Speakers spoke passionately of the issues involved: of the right of individuals to create wealth by their own labour, and of the need to unite against an oppressive government.

'To be respected by fellow-man, is a right-minded man's pride' - Mr Booley.

'I defy the world to produce the same honest among the sane number as at Forest Creek' - Mr Potts.

'…when the Commissioner came around, I should refuse to pay,and he would compel me to go with him. Now, I should propose that if one went, all went.' - Mr Booley 'Yes, Yes.' - The crowd.

'It was unjust taxation that caused the United States to throw off the burthen, and unless the Government learnt a little wisdom, an additional tax might lead to same result here.' - Captain Harrison.

The Government, taken aback by the strength of the protest, surrendered its plans to increase the cost of the licence. The diggers had won this battle by peaceful means, but discontent on the diggings continued. Three years later, at Eureka, another protest was not so lucky.
A recreation of the Monster Meeting diggers' flag, the Standard of Australian Reform'.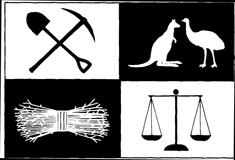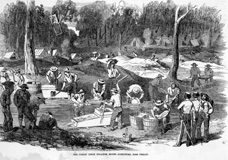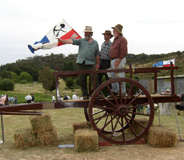 The diggers at Forest Creek produced a flag which flew, for the first time at the Monster Meeting. A pick and shovel spoke for the value of labour, a bundle of sticks stood for unity, a set of scales called for justice for all, and a kangaroo and emu showed their allegiance to a new land and new ways.

It is not surprising that a flag was seen as the first symbol of their cause. Flags, or makeshift emblems of one sort or another, stood above every tent on the goldfields.

'Tents… with all sorts of flags sticking out the tops of them; boots, shoes, old hats, bones, in short everything you can mention, so as each party may recognize their own tent' - Letter from an English labourer's wife. Mt Alexander, 1852.
View Larger Map