Red Knob Landscape

Look out over a broad valley, and the remains of a hill, the bulk of which has gone in the search for gold.
| | |
| --- | --- |
| Access: By car to viewing point. | Period: 1930s on |
| Time: Allow 15 minutes there | Stories: People; sluicing & impacts |
Most of the district's gold was found in the remnants of ancient river sediments capping a string of hills between Chewton and Vaughan.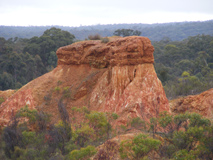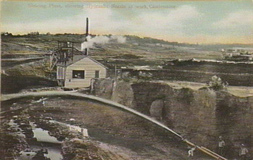 Red Knob was one such hill, and a miner named Arthur Bradfield, with his sons George and Ray, sluiced most of it away in the 1950s.

Harnessing the great quantity of water needed to wash gold from a hardened old river bed has always been difficult in the dry goldfields environment. But in 1870, water had been diverted from the distant Loddon River and sent through a system of open channels (or races) for the use of miners around Fryerstown, Vaughan and Strathloddon.
The race followed a tortuous route of more than 14 miles (20 km), passing through one tunnel and crossing eleven large gullies by means of timber boxing (called flumes) supported by trestle bridges. When the Bradfields began sluicing at Red Knob after World War Two, they and other locals rebuilt the race, replacing the old bridges with new flumes made of riveted galvanised iron pipes.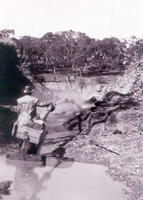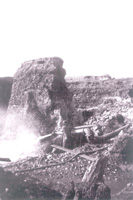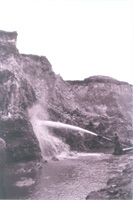 Most of the hill now known as Red Knob has been sluiced away in the search for gold (they stopped when the Shire said they were too close to the road). Ray Bradfield, one of Arthur's sons, went on to become a respected local historian. He said they 'made wages' at Red Knob.
View Larger Map