Garfield Waterwheel

A surviving section of the original 1850's diggings. This is a genuine alluvial gold landscape.

| | |
| --- | --- |
| Access: by car to within 100m of the site, then an easy stroll | Period: 1887-1904 |
| Time: Allow 20-30 minutes | Stories: People; mining companies |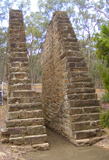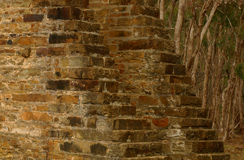 'About 800 yards have been excavated for the wheel, and two heavy stone walls have been raised to a height of 35 feet, carrying a water wheel 70 feet in diameter. The water wheel, which appears to be a splendid piece of workmanship, has been put in position.... With cog gearing resting on massive wooden horses.' - Mount Alexander Mail, 3 March 1887.

The richness of the Mount Alexander and Bendigo goldfields led the Victorian Government to build the Melbourne to Bendigo railway and an extensive water supply scheme.

This system brought water from the Coliban River, through hundreds of miles of open channels, to the parched goldfields of Bendigo and Castlemaine. At Chewton, a gold mining company used Coliban water to turn a giant waterwheel to power its quartz crushing mill.

In 1887, when it was constructed, the Garfield Waterwheel was hailed as the largest waterwheel in the southern hemisphere. Built of timber, the 72 foot diameter wheel could be seen for miles around. For 24 hours a day, the racket of the 15 head ore-crushing battery powered by the wheel could be heard in Castlemaine - except on Sundays when all work on the goldfields stopped.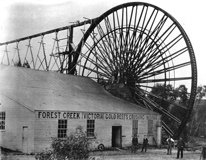 Water from the Expedition Pass reservoir passed along a race and, for the final 240 metres, along a sapling­supported flume to the top edge of the wheel. After falling to the bottom of the wheel, the water continued down the hill to power the quartz-crushing battery of the nearby Manchester mine.

The Garfield waterwheel proved to be a little too big for its own good. In 1904, an inability to cope with high winds, and wear and tear on the gearing forced the dismantling of the wheel and a conversion to steam power. Nevertheless, the Garfield Waterwheel was one of the great icons of technological development brought about by the search for gold. A stylised representation of the wheel features in the logo of the Mount Alexander Diggings.
`
Chewton Town Hall has photographs and other information about the Garfield Wheel, and other mines of this period. The collection includes the story of Ada Ebbott (pictured above at her wedding) who, as a small child, nearly lost her life on the wheel, The Garfield Waterwheel was one of the great icons of technological development brought about by the search for gold.
View Larger Map