Guildford Lookout
One of the goldfield's great Chinese diggings once operated here, on the edge of an ancient lava flow.
| | |
| --- | --- |
| Access: by car (steep) to site. 14 steps to lookout (view good from ground) | Period: 1860s on |
| Time: Volcanoes; Chinese diggings | Stories: Allow 20 minutes there |
Poking its brow above the southern horizon (on your left) is the pine-tree covered summit of Mount Franklin. It was known as Lalgambook to the Djadja Wurrung people.

Legend has it that old Mount Tarrangower (on the north-west horizon, to your right) argued with young Mount Lalgambook. The younger mountain, in fury, hurled rocks towards the rival peak.

Mount Franklin is an extinct volcano, but was active well within the time of Aboriginal occupation of the area. It is one of many volcanoes on the lava plains that stretch throughout south-western Victoria. This lookout stands on the remains of a lava flow, and the flat plateau in front of you is part of the same volcanic basalt plain. Over many years, the Loddon River has cut through the basalt, leaving a steep escarpment around the valley here.

Guildford marks the edge of the volcanic country and its lava flows. North of here, gold could be found easily, but south and west of here, the old alluvial valleys were covered by the lava flows, and mining generally had to follow `deep leads' below the basalt rock. Valleys like this one, where rivers had already done some of the work, still promised easily won alluvial gold.

In front of you at the base of the escarpment, at the junction of the Loddon River and Campbells Creek (see map), is a wide river flat which was once the site of the largest Chinese township on an Australian goldfield.

In 1860, about 1000 Chinese diggers occupied ground on Taylor's Paddock, at the river junction. Adjacent to their mine workings, the Chinese formed 'quite a township' which included, among other things, two circuses.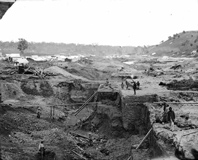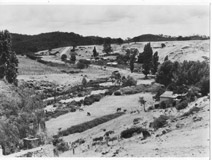 Sluicing and dredging operations during the twentieth century removed all trace of Chinese occupation hereabouts
They have regularly formed streets (although very dirty and very narrow), and excellent buildings of paling and weatherboard, consisting, in many instances, of two stories. These buildings are tastefully decorated both inside and out …. The largest erections area used as cook-shops, eating houses, gambling and opium saloons … If the amount of noise and confusion is any criterion, I should imagine the Chinese in this locality are doing remarkably well'
- Mining Surveyors monthly reports 1861
The Chinese gardens at Guildford would have been very like this Chinese market garden at Vaughan.
View Larger Map